As recently as a year ago, creative agency Talenthouse was announcing the expansion of its business through new acquisitions.
But 2023 is proving very different for the platform that matches artists with design contracts at major brands.
The Switzerland-headquartered company has warned in a statement that it faces a "critical financial situation," but has found an investor that's willing to buy up to 32% of the struggling company.
That investor is Luxembourg-headquartered Garage Italia Finance, which already controls 23% of voting shares in the company. Parent company Talenthouse AG had announced on May 14 that it had found a new investor, but didn't unveil the investor's identity until its most recent statement, which it issued on Sunday (May 21).
"The company is in a restructuring phase to address its critical financial situation. The company, the investor and the company's auditors are working on solutions [for] how to best proceed, including the previously announced capital increase," the statement said.
The statement didn't address the question on the minds of many involved in the situation – whether the new investment would give it the capital needed to pay what it owes to creditors and contractors.
What's known is that, at the price agreed to by the investor – CHF 0.10 per share – a 32% investment would amount to around CHF 14.94 million (approx $16.5m).
Talenthouse, which says it "connects over 20 million creatives with brands and audiences," has provided talent to such businesses and organizations as Coca-Cola, Netflix, Nike, Snap, Sony and the United Nations.
Crunchbase reports that Talenthouse has raised a total of $80.1 million in funding to date.
Amongst its investors are Animoca Brands, which invested $2 million in Talenthouse in 2019.
(Animoca Brands is the parent company of The Sandbox gaming metaverse. It recently acquired a majority stake in Pixelynx, a music metaverse gaming platform founded by musicians deadmau5 (Joel Zimmerman) and Richie Hawtin (Plastikman).
Over the past two years, the company went on an acquisition spree in an effort to grow its business. Among other things, it acquired competitor Zooppa, stock photo provider EyeEm, Coolabi, a developer of children's TV shows and apps, and Creative Commission, a company that specializes in connecting visual artist freelancers with the music industry.
Creative Commission's clients include Sony Music, Warner Music, Universal Music Group, Atlantic Records, Columbia Music, Interscope Records and Virgin Records.
However, according to insiders cited by The Guardian, the acquisitions siphoned off money from the company at a time when the tech sector was experiencing a downturn.
Talenthouse's stock – which trades on the SIX Swiss stock exchange – has fallen more than 99% from a peak in June 2021, and was trading on Wednesday (May 24) at CHF 0.01 per share.
---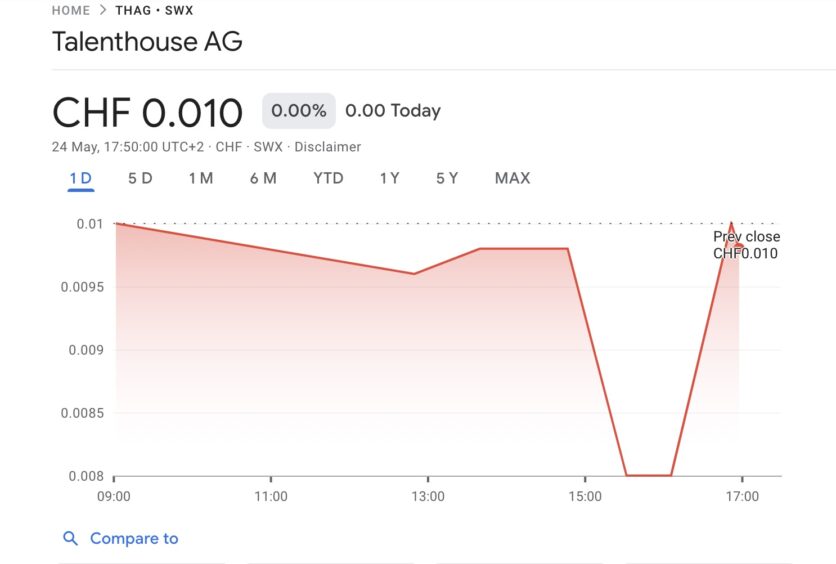 ---
Earlier this year, it began to emerge that Talenthouse was failing to pay its talent. The Observer spoke with 12 Talenthouse contractors who said the company's UK division, which is responsible for a large share of the company's work, hadn't paid them for thousands of pounds' worth of contracts.
In March, UK-based business advisory firm Quantuma, which is reportedly owed money by Talenthouse, petitioned a court for a winding-up of Talenthouse, the Guardian reported. If granted, that would have forced Talenthouse into compulsory liquidation.
Days later, Talenthouse AG issued a statement that a "strategic review revealed in some Talenthouse subsidiaries substantial outstanding liabilities, including salary, tax, and social security, in amounts these subsidiaries cannot cover."
Among those subsidiaries were Zooppa, EyeEm and Talenthouse itself.
"The company has decided to fund these entities no longer," the statement said.
It added that the company was planning a new fundraising round "to have the means to retain those parts of the company that operate sustainably (such as the Coolabi business), to invest in its 'Creator Services' propositions and to reorganize the support of its creator platform."
Earlier this month, the company announced that its annual report – which had been due on April 24 – would be delayed to May 31.
"In the course of the review of the figures and the business of the Talenthouse Group, issues came to light which require further time to be appropriately addressed," the company said.
Talenthouse was originally founded in 2012 by Austrian entrepreneur Roman Scharf, who remains the company's chairperson.
 Music Business Worldwide