In the year that went by, domestic airlines in the country have received a total of 5,901 passenger complaints according to the monthly bulletins put out by the Directorate General of Civil Aviation.
In 2022, April saw the most number of complaints — 619. On the other hand, the lowest number of complaints, 327, was recorded in February, when the Omicron wave of the Covid-19 pandemic had grounded passengers.
What were these complaints about?

Every month, a huge chunk of passengers complained mainly about refunds, baggage issues, flight problems and customer service. Complaints in these four categories formed more than three-quarters of the total complaints filed every month. However, their proportions varied over time.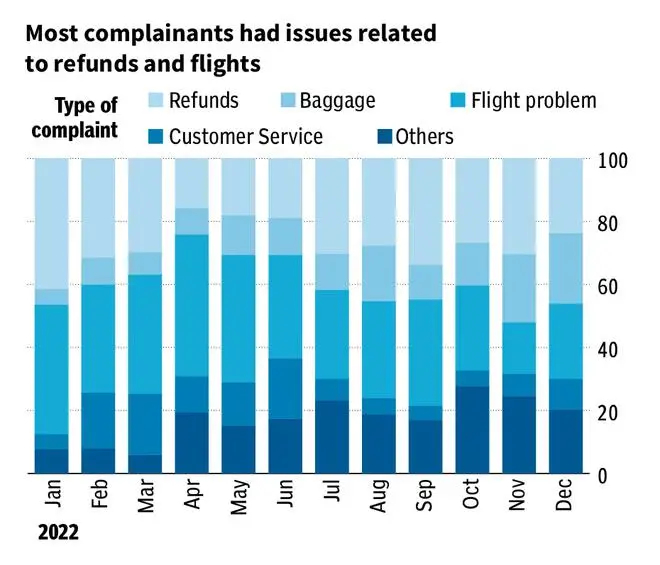 For instance, in January 2022, over 80 per cent of the total complaints were about refunds and flight problems. In that month, five per cent of the total complaints were about baggage, and 4.8 per cent of them pertained to customer service. By December, 22.3 per cent of the total complaints were about baggage-related issues. While the proportion of flight problems reduced to 24 per cent, 23.8 per cent of the complaints were about refunds. The proportion of baggage-related complaints saw a steady rise since the beginning of the year, while the share of flight problems reduced.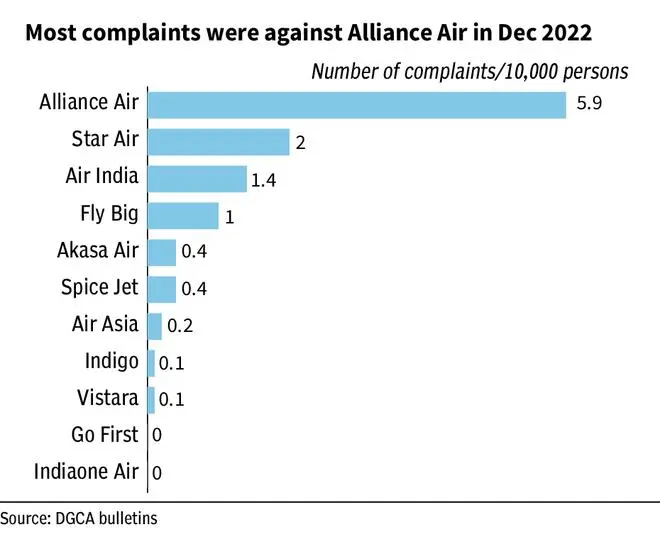 While the bulletins did not specify the exact number of complaints against each airline, in all months, except October, Alliance Air saw the most number of complaints per 10,000 passengers travelled. In December, out of every 10,000 passengers who travelled by an airline, 5.9 had a complaint. In January, it was as much as 24.1 per 10,000 passengers. After the Air India disinvestment, in April 2022, Alliance Air hasn't been a part of the Air India group and runs as an independent Business Unit under the Government of India.
After Alliance Air, comes Sanjay Ghodawat Group-owned Star Air, where on December, 2 of every 10,000 passengers had a complaint. Star Air was also the airline with the most proportion of complaints against it in October. Air India comes next, where 1.4 of every 10,000 passengers in December had a complaint.